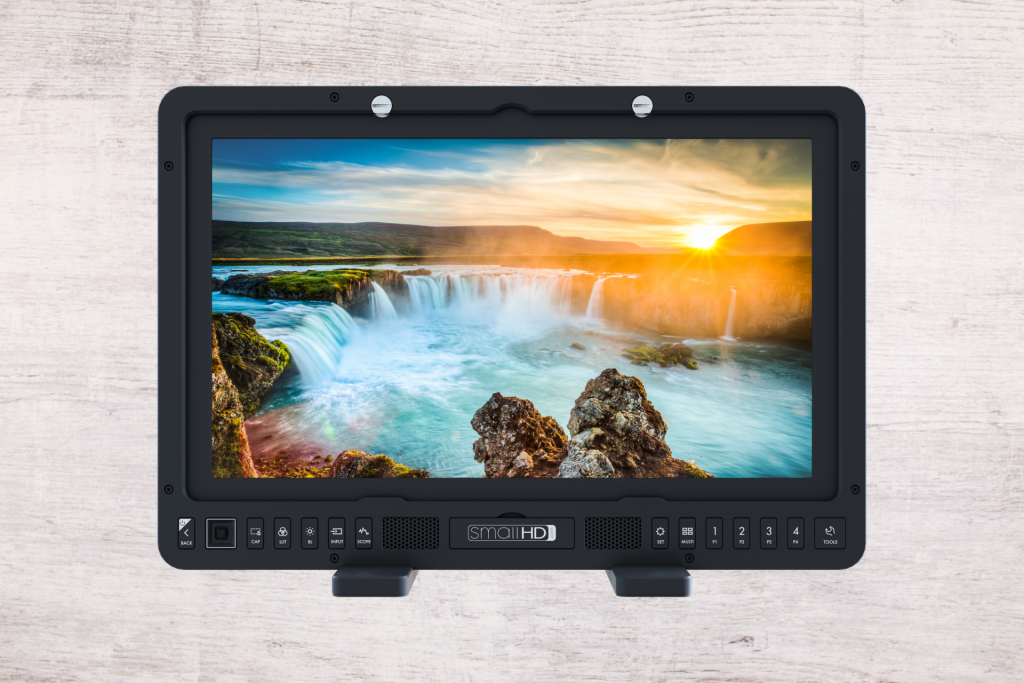 Compact, durable and very bright (900nit) reference monitor.
Made to work in studio and also in field newset monitor from SmallHD 1703 P3X covers 100% DCI P3.
As an addition it can be powered from V-Lock battery and same as with the other SmallHD monitor series got option to mount accessory devices on it.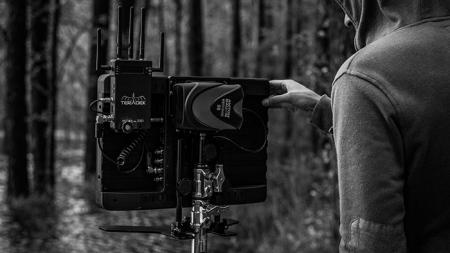 TECHNICAL SPECIFICATIONS
Display
| | |
| --- | --- |
| Panel Type | IPS LCD |
| Size Diagonal | 17 |
| Resolution | 1920×1080 |
| Pixel Density (PPI) | 133 ppi |
| Aspect Ratio | 16:9 |
| Active Area | 16.52 |
| Brightness | 900 Nits |
| Contrast | 1400:1 |
| Color Gamut | 100% DCI-P3 |
| Color Depth | 10 bit |
| Viewing Angle | 178 degrees Vertical and Horizontal |
| Backlight Type | White LED |
| Adjustable Backlight | Yes – 0 – 100 in 6 steps with 100-nit studio mode |
| Temperature Adaptive Color | No |
Input Signal Types/Formats
| | |
| --- | --- |
| 3G-SDI | YCC 4:2:2 @ 10bit: 1920x1080p60, 1920x1080p59.94, 1920x1080p50, 1080i60, 1080i59.94, 1080i50 |
| HD-SDI | YCC 4:2:2 @ 10bit: 1080p30, 1080p29.97, 1080p25, 1080p24, 1080p23.98, 1080psF30, 1080psF29.97, 1080psF25, 1080psF24, 1080psF23.98, 1080i60, 1080i59.94, 1080i50, 720p60, 720p59.94, 720p50, 720p30, 720p29.97, 720p25, 720p24, 720p23.98 |
| SD-SDI | YCC 4:2:2 @ 10bit: 480i29.97, 576i25 |
| HDMI | Supports YCC 4:2:2 @ 8 bits, 8/10/12 bit color in RGB & YCC 4:4:4: 1080p60, 1080p59.94, 1080p50, 1080p30, 1080p29.97 1080p25, 1080p24, 1080p23.98,1080i120, 1080i119.88, 1080i100, 1080i60, 1080i59.94, 1080i50, 720p120, 720p119.88, 720p100, 720p60, 720p59.94 , 720p50, 720p30, 720p29.97, 720p25, 720p24, 720p23.98, 480p120, 480p119.88, 480p100, 480p60, 480p59.94, 576p100, 576p50 |
| Component | Not Supported |
| Composite | Not Supported |
| Audio | HDMI & SDI – Monitor through Speakers in Front Bezel or Through Headphone Jack – Metering up to 8 channels |
Output Signal Types/Formats
| | |
| --- | --- |
| 3G-SDI | YCC 4:2:2 @ 10-bits: 1080p60, 1080p59.94, 1080p50, 1080i60, 1080i59.94, 1080i50 |
| HD-SDI | YCC 4:2:2 @ 10-bits: 1080p30, 1080p29.97, 1080p25, 1080p24, 1080p23.98, 1080psf30, 1080psf29.97, 1080psf25, 1080psf24, 1080psf23.98, 1080i60, 1080i59.94, 1080i50, 720p60, 720p59.94, 720p50, 720p30, 720p29.97, 720p25, 720p24, 720p23.98 |
| SD-SDI | YCC 4:2:2 @ 10-bits: 480i29.97, 576i25 |
| HDMI | YCC 4:2:2 @ 8 bits, 8/10/12 bit color in RGB & YCC 4:4:4: 1080p60, 1080p59.94, 1080p50, 1080p30, 1080p29.97 1080p25, 1080p24, 1080p23.98,1080i60, 1080i59.94, 1080i50, 1080i30, 1080i29.97, 1080i25, 720p120, 720p119.88, 720p100, 720p60, 720p59.94 , 720p50, 720p30, 720p29.97, 720p25, 720p24, 720p23.98, 480p120, 480p119.88, 480p60, 480p59.94, 576p100, 576p50, 480i240, 480i239.76, 480i120, 480i119.88, 480i60, 480i59.94, 480i30, 480i29.97, 480i24, 480i23.98, 576i200, 576i100, 576i50, 576i25 |
| Component | Not Supported |
| Composite | Not Supported |
| Audio | HDMI & SDI – Incoming Audio Stream is sent downstream via HDMI or SDI connection |
Connector Type
| | |
| --- | --- |
| SDI | 2x 3G Inputs (BNC), 2x 3G Outputs (BNC) |
| HDMI | 1x Input, 1x Output |
| Component | Not Supported |
| Composite | Not Supported |
| Audio | 1x ⅛" Headphone Jack on Front of Monitor |
| Power In | 1x AC Power Input – 3 Prong 90-260V, 1x XLR 4-pin Input 12-34VDC, 1x Lemo Output 12VDC @ 4A Max |
| Power Out | 1x Lemo Output 12VDC @ 4A Max |
| USB | 1x Front USB2, 2x Rear USB2 |
Controls
| | |
| --- | --- |
| Primary Control Interface | Joystick Navigation, Dedicated Back Button. Additional Dedicated buttons for: LUT Selection; Backlight Level; Input Switch; Settings Menu; Multi View; Page 1-4 Instant Selection; Tools Menu |
| Record/Capture | Dedicated Capture Button on Front Bezel |
| User Defined Functions | |
| RF Wireless Remote / External Control | |
| USB Remote / External Control | |
Data I/O
| | |
| --- | --- |
| Storage | SD Card for LUTs, Captured Images, Image Overlays, Firmware Upgrades, Profile Saving |
| USB | USB ports support storage devices for LUTs, Captured Images, Image Overlays, Profile Saving. |
| Wireless | |
| Wifi | |
Power
| | |
| --- | --- |
| Connector Type | Single XLR 4-pin 12-34V DC IN for Battery or Power Supply, 12V Lemo 2-pin OUT MAX 2A |
| Voltage | DC: 12 – 34 VDC |
| Power Consumption | |
| Battery Plate Included | |
| Recommended Power Supply | Included |
| Overload Protection | Yes |
| Smart Battery Compliant | |
| Battery Types | Gold-Mount, V-Mount with optional Battery Plate Accessory |
| Battery Chemistry | |
| Output Voltage (VDC) | 12V @ 2A via 2-pin Locking LEMO Connector |
| Battery Capacity (mAh) | |
| Battery Charging Time (hours) | Battery Charging Not Supported |
Environmental
| | |
| --- | --- |
| Compliance | FCC, IC, CE, RoHS |
| Operating Temperature | 32F – 100F |
| Storage Temperature | 0F -104F |
| Screen Protection | Optional Acrylic Screen Protector |
| Height | 11.7" (29.72cm) |
| Width | 17" (43.18cm) |
| Depth/Length | 2.5" (6.35cm) |
| Weight (Item Only without battery) | 12.0625lb (5.47kg) |
| Weight (Packaged) | 16.86lb (7.65kg) |
| Mount Points | Multiple ¼"-20 & ⅜"-16 Threads on Top, Bottom, Left & Right Sides. Cold Shoe Style Rails on Back of Monitor. Available Cheeseplate for Battery Bracket Mounting. Available Rapid Rail Mount interfaces with cold shoe slots for 2 additional ¼"-20 threads. |
| Note: | |
Software
Pixel Zoom (type)
2x & 4x Zoom with smooth pan via joystick
Frame Guides
Yes: Preset Aspect Ratios & Customizable
DSLR Scale
Canon 5DMkii & Canon 7D
Custom Scale
Yes: Image Crop & Scale Tool for Overscan; Image Size & Position for Underscan
Anamorphic De-Squeeze
Yes: 1.33x, 1.5x, 1.66x, 2.0x
Image Rotate(Manual/Automatic)
Yes – Automatic or Manual Control
Image Flip (Manual/Automatic)
Yes – Automatic or Manual Control
Cross Conversion
Yes: HDMI → SDI & SDI → HDMI
Focus Assist (Colors)
Yes – User Adjustable Color Style and Intensity
Peaking
Yes – User Adjustable Intensity
False Color
Yes – Rainbow & Arri Style
Zebra
Yes – Dual – User Configurable
Waveform
Yes – Luma & RGB Style, Fully User Customizable w/ Region of Interest Highlighting
Vectorscope
Yes
PIP
RGB Parade
Yes – Fully User Customizable
Histogram
Yes – Luma & RGB Style
Horizon Indicator
Image Capture
Yes – With Dedicated Button
Dailies Recording/Playback
Master Recording
Wifi Streaming
Custom LUTS
Yes – Loadable as Looks on Pages or as Systemwide Color Calibration via the settings menu
LUT Creation
LUT Downstream
Yes – Available on SDI 1 or HDMI Out. Applied on Output Preview Page.
LUT Import
via SD Card or USB Storage Device
Onion Skinning
Image Overlay
Yes with Opacity Slider and Blink Setting
Blue Only
Firmware
Audio Meters