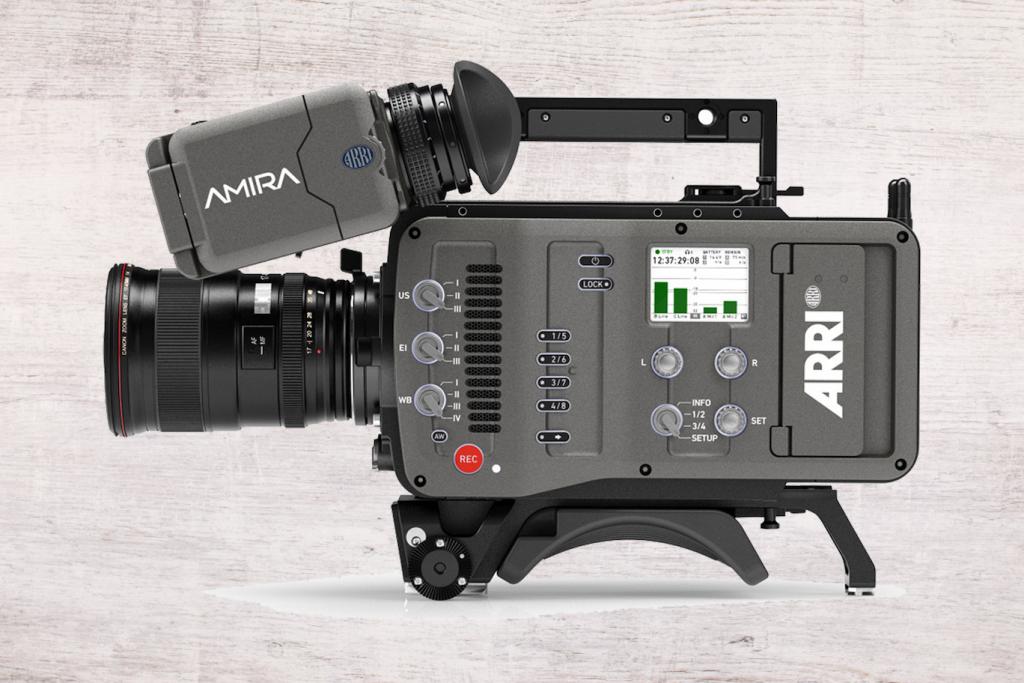 Kamera przeznaczona do dokumentu, ale sprawdza się również przy reklamach, serialach i innych formach gdzie potrzebna jest kompaktowa ale zarazem bogata w możliwości kamera.
200 fps, 3DLut, prores444XQ UHD to tylko niektóre z zalet tej kamery.
SPECYFIKACJA TECHNICZNA
Products
AMIRA Premium
Sensor Type
35mm format ARRI ALEV III CMOS (28.17×18.13)
Sensor Pixel Count
3200×1800 (4K UHD, 3.2K) 2880 x 1620 (HD), 2868 x 1612 (2K), for monitoring with surround area: 3168 x 1772 (HD), 3154×1764 (2K), 3414 x 2198 (4K UHD, 3.2K)
Recording Pixel Count
1920 x 1080 ProRes HD, MPEG 2 and HD outputs, 2048 x 1152 ProRes 2K, 3200 x 1800 ProRes 3.2K, 3840 x 2160 Pro Res 4K UHD and UHD outputs
Lens Mounts
PL mount w/ Hirose connector and LDS, B4 mount w/ Hirose connector, EF mount, PL mount titan (ALEXA Mini)
Shutter
Electronic shutter, 5.0° to 356.0°
Exposure Index
Adjustable from EI 160-3200 in 1/3 stops (EI 800 base sensitivity)
Exposure Latitude
14+ stops over the entire sensitivity range from EI 160 to EI 3200 as measured with the ARRI Dynamic Range Test Chart (DRTC-1)
Audio Recording
4 channels, 24 bit PCM, 48 kHz
Integrated motorized ND Filters
FSND 0.6, 1.2, 2.1
Sound Level
< 20 dB(A)
Weight
~ 4.1 kg/9.2 lbs (camera body with PL Lens mount)
Dimensions
Length: 309mm/12.1″, width: 139 mm/5.4″ , height: 149mm/5.8″ (camera body with PL lens mount)
Environmental
-20° C to +50° C (-4° F to +122° F) @ 95% humidity max, non-condensing, splash and dust-proof through sealed electronics
Viewfinder
AMIRA Multi Viewfinder MVF-1 (OLED and LCD) with flip-out LCD screen,
Camera Control Panel (CCP-1) LCD control panel with option to daisy-chain MVF-1
Outputs Video
2x HD-SDI outputs: 1.5G, (dual) 3G and (dual) 6G; uncompressed HD/UHD video with embedded audio and metadata
Outputs Audio
3,5mm headphone jack, Bluetooth audio
Outputs Power
Hirose 12pin (for ENG type zoom lenses); 12V: D-tab, Hirose 4pin, Lemo 2pin; 24V: RS 3pin
Inputs
Genlock, HD-SDI, Timecode (In and Output), all BNC
Other Interfaces
USB 2.0: For importing and storing AMIRA Look Files, user set up files, frame line files and feature license keys. Stores captured still image formats in DPX (.dpx, 10 bit) or JPEG (.jpg, 8 bit) format. Stores log files. Also used for installing Software Update Packets (SUPs.; Ethernet LAN RJ-45 for camera remote control.
Recording Media
Supported CFast 2.0 memory cards
SanDisk Extreme Pro CFast 2.0 60 GB (SDCFP-060G) – NOT supported in ALEXA Mini
SanDisk Extreme Pro CFast 2.0 120 GB (SDCFP-120G)
SanDisk Extreme Pro CFast 2.0 128 GB (SDCFP-128G, Version A, B)
Lexar 3600x CFast 2.0 128 GB (LC128CRBxx3600)
Lexar 3600x CFast 2.0 256 GB (LC256CRBxx3600)Note: SanDisk 128 GB Version D cards currently are not tested/supported in AMIRA or ALEXA Mini.
Recording Formats
HD 1920×1080 (interlaced & progressive),
2K 2048×1152,
3.2K ProRes 3200×1800
4K UHD 3840×2160
Recording Framerates
0,75 – 200 Fps (progressive) HD, 2K
0,75 – 60 Fps 4K UHD & 3.2K
0,75 – 120 Fps HD, 2K in ProRes 4444 XQ
0,75 – 30 Fps 4K UHD & 3.2K in ProRes 4444 XQ
MPEG-2: 23.98p, 25p, 29.97p, 50i, 59.94i
Recording Codecs (w/ embedded audio & metadata)
ProRes
ProRes 4444 XQ
ProRes 4444
422 HQ
422
422 LT
MPEG-2
Rec 2020, Rec 709, Log C
Rec 2020, Rec 709, Log C
Looks
Complete Look functions; import Looks
Adjustable image parameters
Knee, Gamma, Saturation, Black Gamma, Saturation by Hue
ASC CDL parameter (Slope, Offset, Power, Saturation)
Import of custom 3D LUTs
Import of custom 3D LUTs
Focus and exposure control
Peaking, Zebra, False color
Whitebalance
Auto WB, Dynamic auto tracking WB
Wifi and Ethernet Camera Remote Control*
Wifi and Ethernet Camera remote control
Audio monitoring
Headphone output (mini jack)Headphone output (mini jack), Bluetooth audio monitoring
Pre Record function
Pre Record function
Intervalometer
Intervalometer
Multicam interface
Multicam interface
S16 lens mode
S16 lens mode
ARRI Look Library
ARRI Look Library
1.3x Anamorphic Desqueeze
1.3x Anamorphic Desqueeze
CAP Camera Acess Protocol (through ARRI partner program)
CAP Camera Acess Protocol
*Disclaimer: The camera operator is responsible for enabling wireless camera control. We provide password protection, but please be careful and diligent in providing this only to authorized production personnel.