Zbudowana na podstawie oryginalnego sensora ALEXA wersja pełnoklatkowa sensora pozwala na zapis 4,5K. ARRI ALEXA LF (LPL) oferuje zapis w trzech trybach sensora, z nagrywaniem ARRIRAW lub ProRes w trybie LF Open Gate, LF 16:9 lub LF 2.39:1. ALEXA LF łączy rozdzielczość dużego formatu z optymalnym rozmiarem pikseli pozwalając na uzyskanie doskonałej jakości obrazu, produkując wyraziste obrazy z naturalnymi odcieniami skóry i miękki bokeh. ARRI ALEXA LF wyposażona została w nowe gniazdo LPL, które zostało zoptymalizowane do obiektywów pełnoklatkowych. Jest kompatybilne również z obiektywami PL za pomocą adaptera LPL-PL
SPECYFIKACJA TECHNICZNA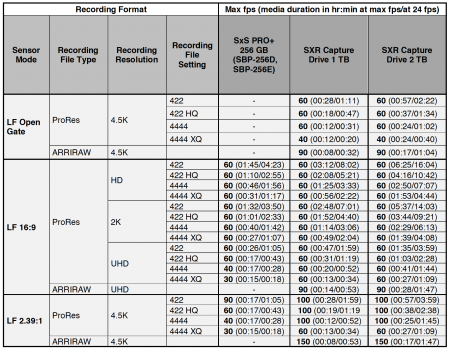 • "LF" in the ALEXA LF name was derived from "Large Format" because it's bigger than 36 x 24 mm Full Frame.
• The Large Format sensor is 36.70 x 25.54 mm, 44.71 Ø
• You can switch sensor modes quickly — no reboot needed.
• 3 Sensor Modes:
– LF Open Gate full aperture 4448 x 3096, 36.70 x 25.54 mm, up to 90 fps.
– LF 2.39:1 Full width spherical widescreen 4448 x 1856, 36.70 x 15.31 mm, up to 150 fps.
– LF 16:9 4K UHD 3840 x 2160, 31.68 x 17.82 mm, up to 90 fps.
• Anamorphic desqueezing : 1.25x, 1.3x, 1.5x, 2x.
• Latest A2X revision of ALEXA ALEV 3 sensor has same 8.25 micron photosite size and familiar look.
• Same user interface as previous ALEXA cameras.
• New LPL (Large Positive Locking) lens mount. The flange
focal depth is 44 mm. Inside Diameter is 62 mm.
• There was a mechanical reason for 44 mm FFD. That was the minimum distance to retrofit the new LPL mount onto Super35 ALEXA (except ALEXA Studio because of its spinning mirror), ALEXA Mini and AMIRA cameras.
• The LPL mount is available for ALEXA Classic, XT, SXT, SXT-W.
• LPL Mount for ALEXA Mini also fits AMIRA.
• IexpectmostrentalhouseswillretrofittheirmountswithLPL.
• All PL mount lenses will fit with ARRI's PL-to-LPL adapter. You can continue to shoot S35 as if you were working with an ALEXA SXT—just crop the S35 image in post.
• Record ARRIRAW and ProRes internally. No external processing required.
• View the playback of ARRIRAW or ProRes on the EVF-1 viewfinder and via 3 independent Monitor OUTs.
• Record uncompressed ARRIRAW Large Format Open Gate 0.75 – 90 fps internally.
• Record uncompressed ARRIRAW Large Format spherical widescreen 2.39:1 0.75 – 150 fps internally.
• Record ProRes LF Open Gate 0.75 – 60 fps internally.
• Exposure Index : 800 EI.
• Exposure Latitude is greater than 14 stops from EI 160 to 3200. Lower noise at higher EI than previous cameras.
• Rule of 1.5x: ALEXA LF sensor is 1.5 times larger than ALEXA SXT. ALEXA 65 sensor is 1.5 times larger than ALEXA LF.
• Resolution follows similar 1.5x math, approximately: ALEXA SXT W maximum resolution: 3424 x 2202 ALEXA LF maximum resolution: 4448 x 3096 ALEXA 65 maximum resolution: 6560 x 3102
• The 1.5x rule does not apply to ARRI Signature Prime Large Format lenses, which are amazingly smaller than Master Primes and about 2/3rd the weight.
• Built-in wireless video transmitter, WiFi, Wireless lens control.
• 4x Fischer 3-pin RS 24V DC accessory power connectors. • 1x Fischer 2-pin 12 V DC accessory power connector.
• 2x 6G SDI and 1x 1.5G HD-SDI Monitor Outputs.
• Familiar ALEXA workflow: 16-bit linear internal image processing in full ALEXA Wide Gamut / Log C color space. Target output color spaces: Log C, Rec 709 or Rec 2020.