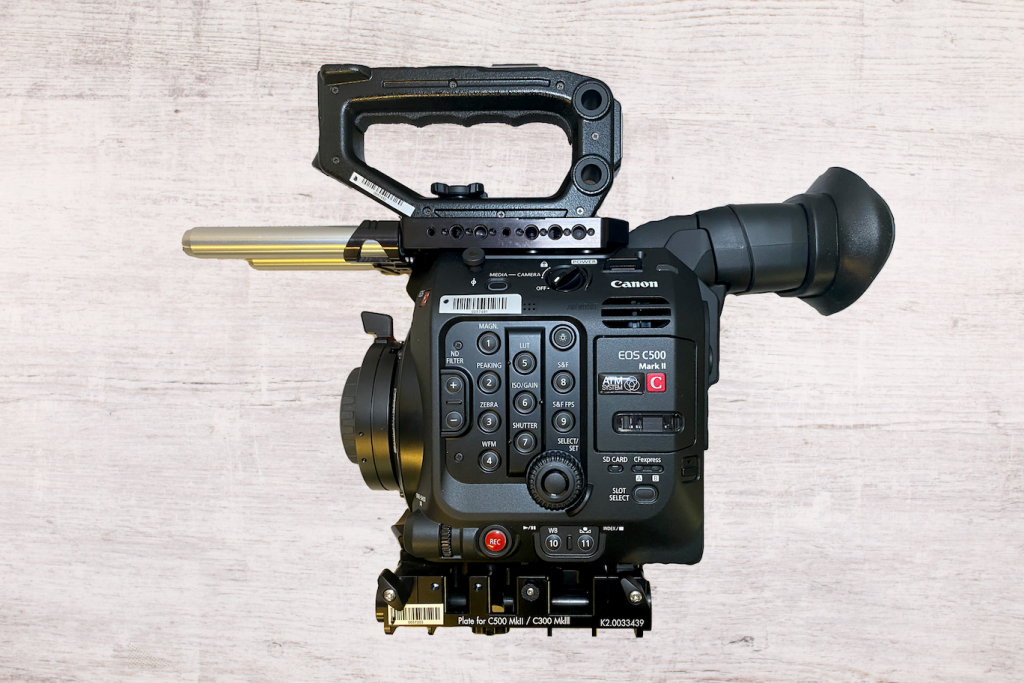 EOS C500 Mark II to kompaktowa kamera z pełnoklatkową matrycą, która pozwala rejestrować obraz w rozdzielczości 5.9K. Opracowany przez Canon pełnoklatkowy sensor jest napędzany nowym procesorem DIGIC DV 7 i umożliwia wewnętrzny zapis obrazu 4K (10 bit / 4:2:2) w formacie Cinema RAW Light. To pierwsza kamera z serii Cinema EOS rejestrująca obraz 5.9K w Cinema RAW Light na zupełnie nowych, szybszych nośnikach CFexpress.
Kamera EOS C500 Mark II wyposażona jest w – doskonale znaną użytkownikom sprzętu Canon – technologię Dual Pixel CMOS AF. Oferując szybki tryb One-Push AF i ciągły AF, profesjonaliści mają pewność, że ujęcia zawsze będą ostre.
Szeroka gama barw i wysoki zakres dynamiczny, wynoszący 15 stopni zapewniają swobodę i elastyczność obróbki obrazu w postprodukcji oraz przy nagrywaniu w trybie HDR. Dodatkowo kamera EOS C500 Mark II posiada wbudowane filtry ND (2, 4, 6, 81 i 102 stopni), które umożliwiają rejestrowanie ujęć z małą głębią ostrości – także w pełnym słońcu.
SPECYFIKACJA TECHNICZNA
Image Sensor

System

RGB primary colour filter (Bayer array)

Sensor Modes

Full Frame / Super 35 mm (Crop) / Super 16 mm (Crop)

Total Pixels

Approx. 20.8 megapixels (6062 x 3432)

Effective Pixels (Full Frame Mode)

Approx. 18.69 megapixels (5952 x 3140): 5952 x 3140 or 4096 x 2160 or 2048 x 1080 selected resolution
Approx. 17.52 megapixels (5580 x 3140): 3840 x 2160 or 1920 x 1080 selected resolution

Effective Sensor Screen Size

38.1 x 20.1 mm (43.1 mm on the diagonal): 5952 x 3140, 4096 x 2160 or 2048 x 1080 selected resolution
35.7 x 20.1 mm (41.0 mm on the diagonal): 3840 x 2160 or 1920 x 1080 selected resolution

Dynamic Range

Canon Log 2: 1600% / 15+ stops
Canon Log 3: 1600% / 14 stops
Wide DR: 800% (at ISO 400)

Lens Mount

Canon EF Mount. B4 mount lens via adapter accessory (EF or PL)

Lens Magnification factor (for EF Mount lenses, including Cinema Primes)

Full Frame:
5952 X 3140/4096 X 2160/2048 X 1080: x1.00
3840 X 2160/1920 X 1080: x1.056
Super 35MM (Crop):
4096 X 2160/2048 X 1080: x1.460
3840 X 2160/1920 X 1080: x1.534
Super 16mm (Crop):
4096 X 2160/2048 X 1080: x2.920
3840 X 2160/1920 X 1080: x3.069

Changeable Lens Mount

Yes, User changeable to EF Cinema Lock or PL

Peripheral illumination correction

YES (dependent on lens used)

ND filter

Up to 10 stops via built in ND filter system (in extended mode)

Focus control

EF Mount: Via lens, wireless control or wired remote (dependent on lens used)
PL Mount: Only Cine Servo lenses

Iris control (EF mount lenses)

Via body, grip, wireless control or wired remote.
1/2-stop, 1/3-stop or FINE control.
Possible to maintain constant F-number during zoom.

Cooke/I Technology Support

Yes (PL Mount only after mount change)

Image stabilization system

Optical depending on lens used. Electronic IS available (5-Axis)

Recording

Internal Recording

CFexpress card x2 for Cinema RAW Light or XF-AVC/MXF, SD card for Proxy recording
SD card also used for Photo Storage (1920 x 1080), CP setting transfer and firmware update

Recording time (Cfexpress card, 512GB) Approx.

Cinema RAW Light: 5952 X 3140: 2.1Gbps: 30 Mins
4096 X 2160: 1 Gbps: 65 Mins
2048 X 1080: 250 Mbps: 256 Mins
XF-AVC/MXF: 4096 X 2160: 810 Mbps 79 Mins/410 Mbps 156 Mins
2048 X 2160: 310 Mbps 207 Mins/160 Mbps 401 Mins

Recording Formats

Cinema RAW Light (CRM), XF-AVC (MXF)

System Frequency/ Frame Rates

59.94Hz mode (59.94P / 59.94i / 29.97P / 23.98P)
50.00Hz mode (50.00P / 50.00i / 25.00P)
24.00 Hz mode (24.00P)

Cinema RAW Light Bit Rate/Bit Depth (PAL)

5952 X 3140: 50.00P, 2.1Gbps 10-bit/25.00P, 2.1 Gbps 12-bit
4096 X 2160: 50.00P, 1 Gbps 10-bit/25.00P, 1Gbps 12-bit
2048 X 1080: 50.00P, 250Mbps 10-bit/25.00P 250 Mbps 12-bit

XF-AVC Recording Bit Rate/ Sampling (PAL)

All-I: 4096×2160/3840×2160 (5.9K/4K Crop), 2048×1080/1920x1080P, 1920x1080i (5.9K, 4K Crop, 2K Crop) YCC,4:2:2 10-bit

Long GoP: 4096×2160/3840×2160 (5.9K/4K Crop), 2048×1080/1920x1080P, 1920x1080i, 1280×720 (5.9K, 4K Crop, 2K Crop)*

XF-AVC Proxy Recording Bit Rate/ Sampling (PAL) To SD Card

2048 X 1080: 50.00P, YCC 4:2:0 8-bit 35 Mbps/25.00P, YCC 4:2:0 8-bit 24 Mbps Long GOP

Proxy recording available for Cinema RAW Light or XF-AVC recording*

Slow/Fast motion

Cinema RAW Light:
5952×3140/4096×2160: 59.94P/29.97P/50.00P/25.00P: 15 – 60 FPS. 24.00P/23.98P: 12 – 60 FPS
2048×1080: 59.94P/29.97P/50.00P/25.00P: 15 – 120 FPS. 24.00P/23.98P: 12 – 120 FPS
XF-AVC, Full frame/Super 35mm (Cropped):
4096×2160/3840×2160 (810/410 Mbps): 59.94P/29.97P/50.00P/25.00P: 15 – 60 FPS
24.00P/23.98P: 12 – 60 FPS
2048×1080/1920×1080 (310/160 Mbps): 59.94P/29.97P/50.00P/25.00P: 15 – 60 FPS
24.00P/23.98P: 12 – 60 FPS
Super 16mm (Cropped):
59.94P/29.97P/50.00P/25.00P: 15 – 120 FPS. 24.00P/23.98P: 12 – 120 FPS
2048×1080 (35/24 Mbps): 59.94P/29.97P/50.00P/25.00P: 15 – 120 FPS. 24.00P/23.98P: 12 – 120 FPS