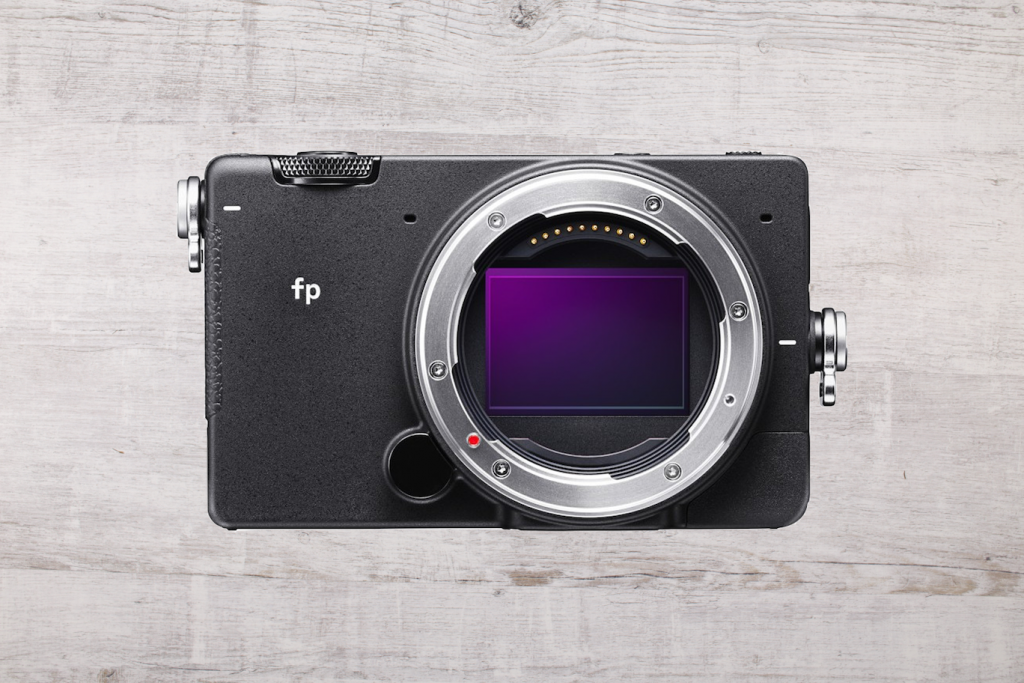 With overall dimensions of 112.6×69.9×45.3mm and a body weight of 422g, battery included, the SIGMA fp is the world's smallest and lightest full-frame mirrorless camera*. Small enough to take along for casual use, it is a perfect camera with which to enjoy full-frame quality images in everyday snaps.
Equipped with a back-illuminated 35mm full-frame Bayer sensor with 24.6 effective megapixels, the SIGMA fp is capable of taking high-resolution still and moving images.
Aside from professional cinema cameras, the SIGMA fp is the first interchangeable-lens mirrorless type digital camera that supports external recording in 12-bit CinemaDNG format. With up to 4K UHD/29.97fps recording, it produces video data that can be used even in filmmaking.
It also supports All-I (All-Intra) recording, which makes it possible to maintain high image quality while reducing file size, allowing light data available for recording and editing. The record format that best suits the purpose of the video can be selected.
TECHNICAL SPECIFICATIONS
fp
Format
Type
Interchangeable-lens Mirrorless Type Digital Camera
Storage Media
SD / SDHC / SDXC memory card(UHS-Ⅱ supported) / Portable SSD (USB 3.0 connection, USB bus power supported)
Lens Mount
L-Mount
Image Sensor
Type
35mm full-frame (35.9mm x 23.9mm) Back-illuminated Bayer CMOS sensor
Camera effective pixels / Total pixels
Approx. 24.6MP(6,072 × 4,056)/ Approx. 25.3MP(6,104 × 4,142)
Aspect Ratio
3:2
Color, filter System
RGB Primary color filter
Still Image File Format
Lossless compression RAW(DNG) data12/14 bit, JPEG(Exif2.3), RAW(DNG)+JPEG:recording is possible
Image aspect ratio
[21:9] / [16:9] / [3:2] / [A Size (√2:1)] / [4:3] / [7:6] / [1:1]
File Size
RAW
HIGH:6000×4000 (3840×2560)  LOW:3008×2000 (1920×1280)*() In DC Clop Mode
JPEG

[21:9]
HIGH:6,000×2,576 (3,840×1,648)
MED:4,240×1,824 (2,736×1,168)
LOW:3,008×1,288 (1,920×824)

[16:9]
HIGH:6,000×3,376 (3,840×2,160)
MED:4,240×2,392 (2,736×1,536)
LOW:3,008×1,688 (1,920×1,080)

[3:2]
HIGH:6,000×4,000 (3,840×2,560)
MED:4,240×2,832 (2,736×1,824)
LOW:3,008×2,000 (1,920×1,280)

[A Size (√2:1)]
HIGH:5,664×4,000 (3,616×2,560)
MED:4,000×2,832 (2,560×1,824)
LOW:2,832×2,000 (1,808×1,280)

[4:3]
HIGH:5,344×4,000 (3,408×2,560)
MED:3,776×2,832 (2,416×1,824)
LOW:2,672×2,000 (1,712×1,280)

[7:6]
HIGH:4,960×4,000 (3,184×2,560)
MED:3,520×2,832 (2,272×1,824)
LOW:2,480×2,000 (1,584×1,280)

[1:1]
HIGH:4,000×4,000 (2,560×2,560)
MED:2,832×2,832 (1,824×1,824)
LOW:2,000×2,000 (1,280×1,280)

Crop
Equivalent to approx.1.5times the focal length of the lens (on 35mm cameras)
23.4mm x 15.6mm when cropped
Color Space
sRGB / Adobe RGB
Movie Recording Format [Camera Internal Record]
Movie Format
CinemaDNG(8bit / 10bit/ 12bit) / MOV:H.264 (ALL-I/ GOP)
Audio Format
Linear PCM (2ch 48kHz/16bit)
Recording Pixels / Frame Rate
3,840×2,160 (UHD 4K) / 23.98p, 25p, 29.97p,FHD(1,920×1,080) / 23.98p, 25p, 29.97p, 59.94p, 100p, 119.88p
Continuous recording time
Up to 2h
Cinema DNG recording media limits
SD card :UHS-II UHD 8bit under 25fps, FHD 12bit under 60fpsPortable SSD:UHD 12bit 30fps, FHD 12bit 100fps or less, 10bit and 8bit 120fps or less** When using our recommended recording media
Movie Recording Format [HDMI External Output]
Movie Format
HDMI Loop out "External recorder record: ATOMOS Ninja Inferno, Blackmagic Video Assist 4K supported
HDMI RAW output "Externai recorder record: ATOMOS Ninja V, Blackmagic Video Assist 12G supported
Audio Format
Linear PCM (2ch 48kHz/16bit)
File Size / Frame Rate
4,096×2,160(DCI 4K) 12bit RAW 24fps
3,840×2,160 (UHD 4K) / 4:2:2 8bit 29.97p / 25p / 23.98p
1,920×1,080 (FHD) / 4:2:2 8bit 119.88p / 100p / 59.94p / 50p / 29.97p / 25p / 23.98p
Focus
Auto Format / Focus Mode
Contrast detection system, Single AF, Continuous AF (with moving object prediction function), Manual Focus
AF Measurement DistanceDetecton Range / AF mode
-5EV~18EV(F1.4:ISO100) / Auto, 49-points selection mode, Free Movement mode, Face/Eye Detection AF mode, Tracking AF mode
AF Lock
Half-press the shutter button, or press the AEL button (setting change required)
Other Focus Functions
AF+MF, MF Assist, MF Guide, Focus Peaking, Release Focus Function, AF-ON, Quick AF, Pre-AF, AF during Image Magnification
Exposure Control
Metering System
Evaluative, Spot, Center Weighted Average
Metering Range
-5~18EV (50mm F1.4: ISO100)
Still Image Shooting Mode
(P) Program AE (Program Shift is possible), (S) Shutter Speed Priority AE, (A) Aperture Priority AE, (M) Manual
Movie Shooting Mode
(P) Program AE, (S) Shutter Speed Priority AE, (A) Aperture Priority AE, (M) Manual
ISO Sensitivity
ISO 100-25600, Expanded sensitivity ISO 6, 12, 25, 50, 51200, 102400
Exposure Compensation
±5EV (in 1/3-stop increments) : ±3EV at movie recording
AE Lock
Half-press the shutter button, or press the AEL button (setting change required).
Exposure Bracket
3-frame/5-frame stage exposure 3EV (1/3 Step, Standard→Underexposure→Overexposure) (Sequence changeable)
Image Stabilization System
Image Stabilization System
Electronic system
White balance
Settings
12types
( Auto, Auto[Lighting Source Priority], Daylight, Shade, Overcast, Incandescent, Fluorescent, Flash, Color Temperature, Custom 1, Custom 2, Custom 3 )
Shutter
Shutter Type
Electronic shutter
Shutter Speed
30 – 1/8,000sec., Bulb (5 minutes max)※ Up to 1/4,000sec. when using electronic image stabilization
Drive
Drive Modes
Single shooting, Continuous shooting(H:approx. 18shots/sec、 M:approx. 5shots/sec、L:approx. 3shots/sec), Self-timer (2sec. / 10sec.), Interval-timer
Maximum number of shots
HIGH: 12frame, MED: 12frame, LOW: 24frame
Monitor
Type / Coverage
TFT color LCD monitor Aspect Ratio 3:2, 3.15, Approx. 2,100,000 dots /Electrostatic capacitance system touch panel / Approx. 100%
Flash (when to use external flash)
Light Emission Mode
S-TTL automatic light control, Manual, Wireless flash, Multi-emission Flash (when to use external flash)
Flash Mode
Red-eye effect reduction / Slow synchronization, 2nd Curtain synchronization
Exposure control
Max. ±3EV in 1/3EV-step increments
Flash Tuning Speed
Max. 1/30sec. * 1/15 sec. or less at 14bit
External Flash Support
Available when the Hot Shoe Unit HU-11(supplied with this product) is mounted.* S-TTL, Wireless support, Xcontact
Color Mode
Color Mode
13types
( Standard, Vivid, Neutral, Portrait, Landscape, Cinema, Teal & Orange, Sunset Red, Forest Green,FOV Classic Blue, FOV Classic Yellow, Monochrome, Off )
Other Functions
Recording Mode
STILL Mode: FillLight / HDR shooting
CINE Mode: Still image shooting during movie shooting / HDR shooting / Director's view finder
Playback Mode
STILL: Mode In-camera DNG Development
CINE Mode: Cinemagraph / still image cut-out
Built-in Microphone / Speaker
Type
Stereo microphone, Monaural speaker
Language
Display Language
English / Japanese / German / French / Spanish / Italian / Simplified Chinese / Traditional Chinese /Korean / Russian / Dutch / Polish / Portuguese / Danish / Swedish / Norwegian / Finnish
Interface
USB
USB3.1 GEN1 Type C
HDMI
Type D (Ver.1.4)
Release Terminal
Also used as an external microphone terminal
Time Code
Aiso used as an external microphone terminal
External Microphone
Φ3.5mm stereo mini jack (Plug-in power support)
Headphone output
Unavailable
Flash-synchro Terminal
Dedicated terminal (with hot shoe unit HU-11 (supplied with this product) mounted)
Dust- & splash-proof structure
Dust- & splash-proof structure
Provided
Power Source
Power
Li-ion Battery Pack BP-51 *USB power supply available (when the power is turned off)
Still images
Approx. 280 images (at 23℃ according to CIPA standard)
Movie | continuous recording
Approx. 70 min
Dimensions and Weight
Dimensions
112.6 x 69.9 x 45.3mm
Weight
422g(including battery and SDcard), 370g(Camera Body Only)
Operating Environment
Operating
Temperature
0~+40℃
Operating
Humidity
86%or less* no condensing
Accessories / Optional Accessories
Accessories
Li-ion Battery Pack BP-51, Strap, Strap Holder, USB AC Adapter UAC-11, USB Cable (A-C) SUC-11, HOT SHOE UNIT HU-11, Body Cap, Instruction Manual, Warranty, Warranty Sticker
Optional Accessories
HAND GRIP HG-11, LARGE HAND GRIP HG-21, LCD VIEW FINDER LVF-11, BASE PLATE BPL-11, CABLE RELEASE CR-41, BASE GRIP BG-11, DC CONNECTOR CN-21, BATTERY CHARGER BC-71, AC ADAPTER SAC-7P, ELECTRONIC FLASH EF-630, MOUNT CONVERTER MC-21